The CreateMyTee crew is a group of dynamic and unique individuals who are passionate about providing you the best experience when ordering custom t-shirts or apparel for your group, team or event. On each and every order, you work one-on-one with two members of the CreateMyTee Crew, including a Project Manager and a Professional Artist. Read more below to get to know each of us.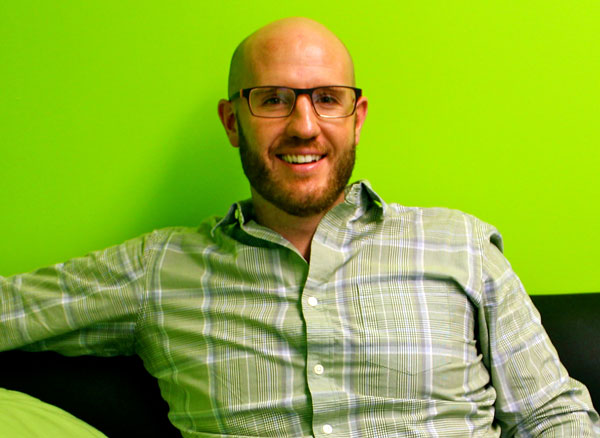 Josh Fales
President
Josh Fales was born for entrepreneurship and has always known he wanted to start his own business. Even in high school, when Josh was in need of extra money, his first instinct was always to work for himself rather than look for a part-time job. He quickly found that he could make money by finding a need within his local community and creating a service to fulfill it. With the support and encouragement of his parents, Josh started and maintained a successful business of power-washing and sealing decks for four summers over his high school career.
After graduating Josh passed down his high school start-up to a friend and moved on to pursue a degree in Economics & Management from Albion College in Albion, Michigan. It was there in 2005 when he (again) found himself in need of a little extra spending money. This time, as a senior member of the Sigma Nu fraternity on campus, the local need he recognized was in the custom t-shirt design and printing industry. He realized the enormous potential in the custom printing market not only within his own fraternity, but across the entire campus. Enter the birth of CreateMyTee! Josh and several of his fraternity brothers ran with the idea and after selling over $25,000 in custom apparel during the course of the year, Josh knew they had come up with something special.
The thought of turning CreateMyTee into a full-fledged e-commerce business stayed with Josh after he graduated. Fales partnered with local talent and reunited with his college buddies, and has since embraced his role as President and Founder of his own company. He now happily spends his days offering customers the best custom t-shirt experience imaginable.
John Burnside
Vice President, Director of Technology
John joined the CreateMyTee crew in the summer of 2008. Having founded his own web development firm out of college, John brought experience in both entrepreneurship and the finer points of website design and web application development.
Throughout his involvement with CreateMyTee, John has built, supported and expanded the very website you're looking at. We're sorry you don't get to see the fun part that actually helps run the entire CreateMyTee enterprise. John holds a Bachelor's degree in Computer Engineering from the University of Michigan.
Steve Hall
Director of Operations
Steve joined the team in 2010 as our first Shirt Specialist, working with every CreateMyTee customer to ensure their custom apparel order was perfectly executed. Now Director of Operations, Steve oversees our creative and operations teams as well as our supply chain.
Steve is a graduate of Albion College.
Kelley Roller
Operations
Kelley joined the CreateMyTee crew in 2011 as a Project Manager and has been taking care of our customers ever since. Whether it be helping you find the best apparel for your order, coordinating order details or ensuring on-time delivery, Kelley is there every step of the way to make sure your CreateMyTee experience is unforgettable. Many of our customers know her as Kelley Gordon (her maiden name)!
Kelley is a graduate of Michigan State University.
Gary Fales
Sales
With 17 years experience as an elementary school principal, Gary has an incredible passion for education. He now uses his experience to educate and mentor CreateMyTee's nationwide network of campus and regional reps. From the moment a campus rep joins our crew, Gary begins teaching them the key points of identifying potential customers on their campuses and seeing new relationships through to completed orders.
Michael Baker
Marketing
Michael started as an intern at CreateMyTee and is now instrumental in the coordination of all of CreateMyTee's marketing activies. From social media (hint: find us on Facebook, Twitter and Instagram!) to Google advertising to exploring unique avenues to reach new customers, Michael brings creativity, humor and an undending work ethic to our crew.
Michael is an Ann Arbor native and a graduate of Albion College.
Mackenzie Novak
Finance
The newest member of the CreateMyTee, Mackenzie works closely with our President, Josh, on all facets of CreateMyTee's financial management, including cash flow, cost management, supply chain analysis, accounts payable, accounts receivable and more.
Mackenzie will graduate from Albion College in 2015.