Collegiate Licensing
Need custom t-shirts & apparel with your college or university logo or name?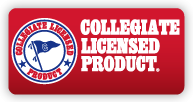 Licensed Colleges & Universities
Don't see your school? Contact us and let us know you'd like to work with CreateMyTee! We will connect with your college or university's licensing group to obtain licensing.
CreateMyTee is officially licensed to print apparel for a number of colleges and universities. This means that we can print custom garments that contain trademarked items, such as logos, names, slogans and more.
Collegiate Licensing Approval Process
All custom apparel to be printed with licensed or trademarked material will have to be approved by the college or university first to ensure compliance with the trademark holder's terms of use. As you may expect, they are not keen on having their brands associated with sexual or alcohol-related messages or imagery.
However, because you work one-on-one with a professional graphic artist at CreateMyTee, we'll be happy to work with you to create a design that will be approved by your college, university or licensing group.